Rent's, Paola Hernandez!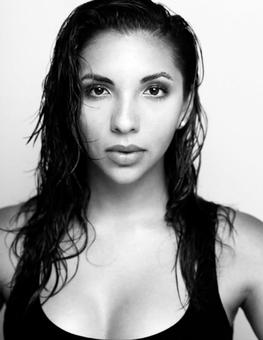 After two years on the road, Paola Hernandez has some answered questions about her time with Rent.
Q: What is Rent about, and what does the show mean to you?
A: Rent is a modern version of the Opera La Boheme. It's an emotionally stirring story about a group of friends struggling to live and celebrate life. This show has an important value in my life. I was 16 the first time I sang from this show. During that period, my teachers explained to me what the story was about, and I automatically fell in love. My uncles passed away from AIDS, so it holds a special place in my heart.
Q: How would you describe Rent to someone who has never heard of the show?
A: I would describe it as a show about LOVE and ACCEPTANCE. We deal with certain subjects that till this day people are not comfortable with. To be able to use art as a channel to help others understand or even acknowledge that these issues still exist, it is highly a blessing for me.
Q: Was it easy for you to make the transition to living in New York?/How did you pursue your acting career?
A: Moving into a new place is never easy. I was born and raised in Puerto Rico. I did a lot of professional theater on the side, but it was always my passion, not my career. After I finished my BFA in Advertising and Public Relations and working in the field for a couple of years, I decided it was time to pursue my passion. I was accepted at Circle in the Square Theatre School and did a two year conservatory program. Moving into the city was one of the hardest things. It is hard to pursue your dreams far away from the ones you love. But I have to say, I don't regret it.
Q: What was the audition process like for Rent?/How long after the audition did it take for you to hear back?
A: So my audition process was very challenging. I started going in for one role. Then they asked me to bring another role. I did a full week of dance calls and then after two months auditioning, I was on hold for another month. Afterwards, they called me back for another week of dance calls, and on the last day they asked me to bring Mimi and Maureen, and sing the Seasons of Love Solo. That night I got the call at work and they said they wanted me as a Swing. My response "What's a Swing?" So they wanted me to cover not one, not two, but five roles in the show in case someone was sick or injured.
Q: Had you heard (of) or seen Rent before auditioning?
A: Rent was actually my first professional gig in Puerto Rico. So I was knowledgeable of the material but not of the original staging.
Q: What track(s) do you currently cover in Rent's 20th anniversary tour?
A: I started as a Swing, and now I play Mimi Marquez.
Q: How do you relate to "Mimi", and the other roles you have played in the show?
A: People say "Oh you're definitely Mimi", but I always feel so far different from her. She's actually a challenge to play. She, in a way, has showed me how to take advantage of time. She spends it celebrating life. I actually identify more with Maureen, which I covered several times in the two years on tour. Every time I was able to perform "Over the Moon", I tried to make every word count. Being Puerto Rican, considered a 'minority', has helped me identify more with her words in the show. Maureen is a fighter, and if she could use her art to stand up for injustice, she will. Favorite line till this day "Revolution, justice screaming for solutions, forcing changes, risk and danger, making noise and making pleas"
Q: Is Rent your first national tour?
A: It is my first tour.
Q: What has been your favorite part of being on tour so far?
A: Favorite thing so far has been the traveling. I never thought I would have been able to experience all of these places.
Q: Do you have any pre-show rituals to prepare you for the show?
A: Oh my God! So many, and mostly during the show, not just the pre-show. I like staying active and aware of everything! There's is a sign backstage that says "Thank You Jonathan". I always make sure I touch it before I enter on stage. During "One Song Glory", I'm doing a full cardio workout. During "Christmas Bells", I make sure I cheer Jasmine Easler (Joanne) when she runs on stage, and then have a full choreo moment with Marcus John (Benny) once he runs offstage. My favorite one I guess would be doing push ups with the Assistant Stage Manager before the last scene of the show. Sometimes cast members join in and it makes it even cooler.
Q: Who and/or what inspired you to become an actress?
A: I guess it's in the blood. My family is related to art in someway. My Dad plays a bunch of instruments, my mom sings, my uncle sings, and so do my grandparents. Also being in high school, I was part of every organization. Track and field, President of the Student Council, President of the National Honor Society, talent shows, but I never felt more at home than in my class for musical theater. My teacher, Miguel Rosa, was the one who introduced me to musicals and later on directed the Rent Production in PR.
Q: What have you learned about yourself from being on tour?
A: I've learned that at the end of the day, everything we do is for the story we have to tell. Sometimes there are good days, sometimes there are bad days, sometimes we have an amazing crowd, and sometimes people leave in the middle of the show, but everything revolves around the story. I'm happy to be part of something that makes people react, and I'm still blessed to be part of this amazing family.
Q: How long have you been touring with Rent?
A: 2 years on the road with Rent.
Q: What has been one of your favorite memories of being on tour?
A: Favorite memory will forever be Celebrating New Year's in Japan. We had a show New Year's Eve. During the show we celebrate New Year's, so picture this. Stage Manager says:"We need to start the 2nd Act at 11:54pm…" Seasons of Love opens the 2nd act, followed by the first bit of the song "Happy New Year" and two voicemails. 11:58pm second voicemail finishes. Maureen starts to sing the second part of "Happy New Year". All of the cast and crew backstage watching the scene on stage…Everyone sings: "5,4, 3 OPEN SESAME! HAPPY NEW YEAR!!!" The crowd cheers, the cast and crew hug each other, the stage manager raises her hands as if it was a touchdown. What an experience!!!
Q: Do you have any advice for future actors and actresses?
A: Best advice to give is to KEEP FIGHTING. Sometimes decisions are made based on a lot of factors that we have no control of. Bring the best you to the room. They always wanna see YOU in the room.
Hi! I hope you liked this interview. Happy spring!
-Rachel